Welcome to the wiki!

Edit
---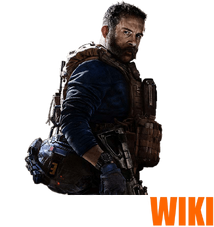 Hello Imperis825, and welcome to the Call of Duty Wiki! Thanks for your contributions. We hope you'll stick around to make even more!
Have you created your user page yet? It's your own personal page, and you can do anything you want with it! Your user page will also help us get to know you as an editor better.
Here are some links that you may find helpful:
Still have questions? Feel free to ask me or contact another administrator. Sysops' names are highlighted in green and bureaucrats' names are highlighted in cyan. When leaving a message, leave ~~~~ at the end of your post so we can recognize you.
We hope you enjoy editing here, and look forward to seeing you around!
Crazy sam10 (talk) 06:04, December 21, 2019 (UTC)
Alex (Modern Warfare 2019), Season Three
Edit
Hello mate. Did you see the Call of Duty: Modern Warfare (2019) Season Three DLC thing ? I think it's Alex, but it's not revealed it. If Alex survived the exploisions in Georgia (country), then it's him. In hungarian language, Georgia means Grúzia, and country means ország in hungarian language. :) I perfectly speak English, for long time, English means Angol, and Magyar means Hungarian. If you think it's Alex, he survived the explosion, or not, but the fans think it's him, with a prostetic leg. I've got the Modern Warfare 2019 season pass, and i've get it the Season Three, for free! :) My favorite character is John Price, John "Soap" MacTavish, Alex, Gaz, Kyle "Gaz" Garrick, Farah Karim, Kate Laswell, Roman Barkov, Jamar Rahal "The Butcher", The Wolf, Hadir Karim, Walid Karim, Nikolai, Yegor, Simon "Ghost" Riley, Gary "Roach" Sanderson, Shepherd, Imran Zakhaev, Viktor Zakhaev, Vladimir Makarov, Khaled Al-Asad, Yuri, Joseph Allen, James Ramirez, Dunn, Foley, Sandman, Derek "Frost" Westbrook, and Kamarov. :) So, you think it's Alex appears in Season Three, or someone else ? :) —Unsigned comment was added by Marec2
No Real Life Info
Edit
Hi, and welcome to the Call of Duty Wiki! There's a lot to do around here.
We really appreciate your contributions here, but we have a no IRL, or no "In Real Life" policy. IRL pictures are also not allowed in articles but they are allowed for personal use.
If you have any concerns feel free to ask at the Help desk or on the "discussion" page associated with each article, or post a message on my talk page! Also, please review our policies so that you understand them completely to avoid any future mistakes.
If you have any other questions, feel free to contact an administrator for help. Sysops names are represented in green and bureaucrats names are represented in cyan. Please leave a message on my talk page if I can help with anything!
Ultimate94ninja

talk

·

contribs

15:23, May 6, 2020 (UTC)
Community content is available under
CC-BY-SA
unless otherwise noted.