Welcome to the wiki!
---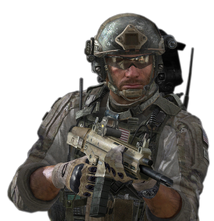 Hello Jgjake2, and welcome to the Call of Duty Wiki! Thanks for your contributions. We hope you'll stick around to make even more!
Have you created your user page yet? It's your own personal page, and you can do anything you want with it! Your user page will also help us get to know you as an editor better.
Here are some links that you may find helpful:
Still have questions? Feel free to ask me or contact another administrator. Sysops' names are highlighted in green and bureaucrats' names are highlighted in cyan.
We hope you enjoy editing here, and look forward to seeing you around!
thanks
thanks, the person you'd want to talk to would be Callofduty4 he knows more about this stuff than I. Sounds interesting drop him a note and see what he says.

Talk 03:32, November 16, 2011 (UTC)
I appreciate the quick feedback. I will go ahead and direct my proposal to him (now that just sounds awkward).
Hey
I just saw what you posted on Whiskey's and Cod4's wall and I just wanted to point out that because you have experience from the Dead Island Wiki, you will be allowed to make a War Room post. The War Room is located here and I thought you'd like to make a post based on your suggestions. Most of the community go there and it's a great place to get your ideas for the wiki out! :) YELLOWLUCARIO TALK  19:52, November 21, 2011 (UTC)
Community content is available under
CC-BY-SA
unless otherwise noted.