Template:User:JosephHawk/Navbox
Welcome to the wiki!

Edit
---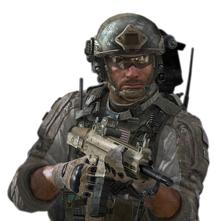 Hello Josephyr, and welcome to the Call of Duty Wiki! Thanks for your contributions. We hope you'll stick around to make even more!
Have you created your user page yet? It's your own personal page, and you can do anything you want with it! Your user page will also help us get to know you as an editor better.
Here are some links that you may find helpful:

Still have questions? Feel free to ask me or contact another administrator. Sysops' names are highlighted in green and bureaucrats' names are highlighted in cyan.
We hope you enjoy editing here, and look forward to seeing you around!
Crazy sam10 (talk) 14:20, May 29, 2013 (UTC)
I was not the person that banned him, nor do I frequent IRC. Furthermore it's not generally considered good mannered to discuss bans of other users, so either way I couldn't really tell you.
Re:Congratulations
Edit
Thanks Joseph!

 Capt. Miller · talk 14:02, July 4, 2014 (UTC)
Thank you for the kind words, thats really nice of you to say.  

Capt. Miller

 

·

 

talk

 14:38, July 4, 2014 (UTC)
Signature
Edit
Just so you're aware, if you want to keep signing your posts here, your signature has to have your exact username in it. For more information please refer to the
signature policy
.
No worries, thanks for the quick change.
Hey Joseph, thank you for you giving me support in my RFA! It really means a lot!
Legos-Rule-15 Talk 23:42, November 24, 2014 (UTC)
Your Signature
Edit
you may want to know that your signature doesnt link to your userpage; it only links to your talk page. wasnt sure if this was intentional or not but i wanted to let you know. RisingSun2013 02:46, November 27, 2014 (UTC)
no problem. just wanted to make sure you knew. RisingSun2013 21:56, November 28, 2014 (UTC)
Hey man, thanks for supporting my RfA! That means a lot to me. --Ultimate94ninja (talk) 22:54, November 29, 2014 (UTC)
No problem man. I understand you, when I check the edit an anon account made, I always get my mouse ready on the "undo" button.

Rain - Talk

20:07, December 6, 2014 (UTC)
you'll see
Edit
kat and i are gonna fight tomorrow, want tickets? Madnessfan34537
07:59, March 13, 2015 (UTC)
Community content is available under
CC-BY-SA
unless otherwise noted.