Welcome to the wiki!

Edit
---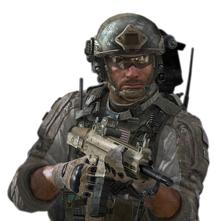 Hello Kirito (Kirigaya Kazuto), and welcome to the Call of Duty Wiki! Thanks for your contributions. We hope you'll stick around to make even more!
Have you created your user page yet? It's your own personal page, and you can do anything you want with it! Your user page will also help us get to know you as an editor better.
Here are some links that you may find helpful:

Still have questions? Feel free to ask me or contact another administrator. Sysops' names are highlighted in green and bureaucrats' names are highlighted in cyan.
We hope you enjoy editing here, and look forward to seeing you around!
Raven's wing (talk) 10:12, November 15, 2014 (UTC)
Youtube Player
Edit
Regarding the Youtube Player on your userpage, I've removed it due to not being visible. In order for you to to have the template on your userpage, it has to be visible and near the top of the page. Anyways, if you plan on adding it back, please add it so that it abides to the above. Furthermore, we already have a template for that, Template:YoutubePlayer. Thank you.
Legos-Rule-15 Talk 00:24, November 17, 2014 (UTC)
hiTankdemsy (talk) 11:49, March 11, 2015 (UTC)Tankdemsy
Hey, is that Crimson Avenger Elesis on your profile pic?
Mobile Task Force Unit: Nine-Tailed Fox has entered the Facility (talk) 07:54, June 1, 2015 (UTC)
Banned from Chat
Edit
Due to your unacceptable behavior on Call of Duty Wiki Chat, you have been banned by Madnessfan34537. Your ban expires on June 23, 2015, and the reason why you were banned may be viewed in the June 23, 2015 (UTC) ban log. You can contact the moderator who banned you to see if you can be unbanned, however it is very strongly advised that you read and review our policies thoroughly before you reconnect.
Any more unacceptable behavior and a wiki block or longer chat ban may be issued. Thank you.
-- This is an automated message. Holo the Wise Wolf Requested
Random Chuunibyou stuffs
Edit
I see that you like watching "chinese cartoons." You got a MAL? Higaboi21talk
05:52, June 30, 2015 (UTC)
Community content is available under
CC-BY-SA
unless otherwise noted.