Greetings comrade!
Edit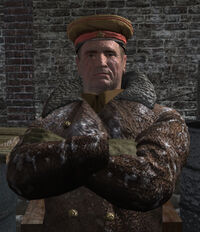 Welcome to the Call of Duty Wiki comrade! There's a lot to do around here, so I hope you'll stay with us and make many more improvements.
Recent changes is a great first stop, because you can see what other people are editing right this minute, and where you can help.
Please sign in, if you haven't already, and create a user name! It's free, and it'll help you keep track of all your edits.
Questions? You can ask at the Help desk or on the "discussion" page associated with each article, or post a message on my talk page!
Need help? The Community Portal has an outline of the site, and pages to help you learn how to edit.
I'm really happy to have you here comrade, and look forward to contributing with you!
Sgt. Chiafriend

Rifleman

07:39, 10 July 2008 (UTC)
Re: Arrogance?
Edit
You seem to have misconstrued my words. I have absolutely no problem with people who don't know things about firearms. My problem is with people who don't, but think that they do. I don't at all think that everyone should own a weapon. And your comment about people being murdered by weapons honestly made me a little angry. Of course I know that people are murdered. Did you possibly think that I have known someone who was murdered? Anyway, I'm sorry that I came across as arrogant to you, that's not how I'm trying to appear, I only ask for people to have some knowledge about things they are talking about. SaintofLosAngelesXD(M) 00:50, January 14, 2010 (UTC)
Templates
Edit
Templates are pretty easy to work with. Just copy a template and change certain things like the links included, title, and color (which you'll have to look at the color table for). --

Poketape Talk 23:10, April 14, 2010 (UTC)
RE: Lyrics
Edit
So? If half way through the song it said the lyrics were "bananas suck my shit" would you add that even thought it's not in the song? "Death" has been up for three years now, and the song says "death" not "doom". Conqueror of all Zombies 01:46, January 24, 2011 (UTC)
So? Richtofen's name is spelt wrong in the subtitles. Typos and missprints are common. And, unless you are Kevin Shearwood, I'm not arguing with him, I'm arguing with you. Conqueror of all Zombies 02:23, January 24, 2011 (UTC)
Community content is available under
CC-BY-SA
unless otherwise noted.