Welcome to the wiki!

Edit
---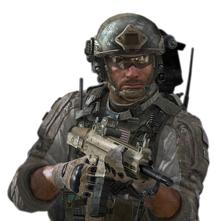 Hello Pigpen077, and welcome to the Call of Duty Wiki! Thanks for your contributions. We hope you'll stick around to make even more!
Have you created your user page yet? It's your own personal page, and you can do anything you want with it! Your user page will also help us get to know you as an editor better.
Here are some links that you may find helpful:

Still have questions? Feel free to ask me or contact another administrator. Sysops' names are highlighted in green and bureaucrats' names are highlighted in cyan.
We hope you enjoy editing here, and look forward to seeing you around!
Crazy sam10 (talk) 02:21, July 18, 2013 (UTC)
Banned from Chat
Edit
Due to your unacceptable behavior on Call of Duty Wiki Chat, you have been banned by Argorrath. Your ban expires on April 02, 2014, and the reason why you were banned may be viewed in the ban log. You can contact the moderator who banned you to see if you can be unbanned, however it is very strongly advised that you read and review our policies thoroughly before you reconnect.
Any more unacceptable behavior and a wiki block or longer chat ban may be issued. Thank you.
-- This is an automated message. Holo the Wise Wolf 23:36, March 30, 2014 (UTC)
Hey what system do you play on I would like to play with you Si1920 (talk) 00:41, June 30, 2014 (UTC)
Why @Si1920 Pigpen077 (talk) 01:11, June 30, 2014 (UTC)
Trolling
Edit
A blog post or comment you recently made was deleted because it was considered trolling. Trolling can include, but is not limited to:
Calling out other users
Flaming other users/starting flame wars
Posting off topic information
Did not conform to Wiki policies
Please read the policies in order to brush up on the style and professionalism that is expected on this wiki.
You are still free to make posts; however, please make sure they are up to standards!
Thanks!

SAying things like "Think before u comment" can come off as rude. Try to avoid it in replies.
RE:Strike Team
Edit
I think its cos Strike Team is very/identical to the Black Ops II main game.
Argorrath おしゃべり
00:00, August 3, 2014 (UTC)
Bad Image
Edit
An image you recently uploaded was considered to violate the
image policy
as it was one or more of the following:
Low quality
Contained a banned image effect
Concerned real life info, which is not generally allowed
Poorly named
Incorrect/lack of license
Duplicate file/superseded
Tampered with a photo-editing program
Please make sure you read the image policy to be sure of the protocols in place for uploading images.
You are still free to upload images; however, please make sure they are up to standards! Continued uploads that do not comply with the policy may result in a block.
Thanks!

Hi. The images you uploaded yesterday were of very poor quality. They were named incorrectly, and the overall quality of the image was highly lacking. IF you would like to continue adding images to this Wiki, I would suggest you look over
COD:FILE
for help with naming images. As well as get hold of a better device for taking screenshots with, as your PS4 capture card is simply not capable of taking good quality images.
Merry X-mas!
Edit
I haven't talked to you that much yet, but here you go :)
Higaboi21talk
20:55, December 24, 2014 (UTC)
Hi. ~-~. hue AdamTheMop (talk) 18:15, January 20, 2015 (UTC)
RE: Exo Zombies game image
Edit
I would add exo zombies to the template, but I can't find any images that would fit with the others since the gametype seems to lack an actual symbol. If you find anything that would fit with the others, send it to me and I can get it added.
AntiScootaTwotalk  20:53, January 28, 2015 (UTC)
Hi, friend
Edit
I didn't know that I'm your best friend but hi. I couldn't talk to you in William Carver Wiki because TheCryptic banned me.
Dracula GMAN (talk) 12:43, January 31, 2015 (UTC)
You know it's not funny, leave me alone.
Dracula GMAN (talk) 23:40, January 31, 2015 (UTC)
Hey Pigpen, I just wanted to let you know that your recent video "File:Hahahaha..NO!" was deleted because it was a personal video. The wiki doesn't allow personal videos, however, you're free to use the Youtube tags instead, which you can learn about here. Thank you. If you have any questions, you contact me or another custodian on our respective talk pages.
Legos-Rule-15 Talk 06:53, February 12, 2015 (UTC)
get on AdamTheMop (talk) 20:54, July 28, 2015 (UTC)
Regarding your signature
Edit
Please be aware that per
COD:SIG
your signature needs to adequately display your username. Please change it to reflect this. Thanks.
Best & Worst
Edit
Think you could do a Best & Worst: Killstreaks? That'd be cool, thanks! Lakeblood (talk) 04:55, August 11, 2015 (UTC)
Just thought I'd inform you.
Edit
You have 1 new message. Didikins (talk) 23:18, August 15, 2015 (UTC)
Alrighty then; try not to let your emotions cloud your judgement in the future. I've been there, and I can say that you can say some pretty fucking stupid things that you yourself wouldn't be saying in the right state of mind. Bottom line: try to keep cool and collected. Didikins (talk) 00:32, August 16, 2015 (UTC)
Signature
Edit
your current signature goes against COD:SIG. it would be appreciated if you could change your signature or have a signature template made for you on the wiki that follows along with our policies. thank you.
RisingSun2020
(RisingSun's Talk Page ☀ Blog Posts ☀ Contributions) 21:06, May 4, 2016 (UTC)
its fine for it to be unique and different from others signatures, but it has to reflect your username at least a little bit so we know who it is. so that we dont have to hover over the link to figure out who you are. if you disagree with the policy, you could bring it up at the war room if you wish.
RisingSun2020
(RisingSun's Talk Page ☀ Blog Posts ☀ Contributions) 21:22, May 4, 2016 (UTC)
Community content is available under
CC-BY-SA
unless otherwise noted.