Welcome to the wiki!

Edit
---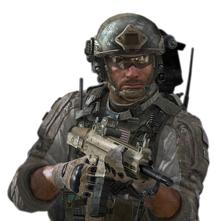 Hello and welcome to the Call of Duty Wiki! Thanks for your contributions. We hope you'll stick around to make even more!
Have you created your user page yet? It's your own personal page, and you can do anything you want with it! Your user page will also help us get to know you as an editor better.
Here are some links that you may find helpful:
Still have questions? Feel free to ask me or contact another administrator. Sysops' names are highlighted in green and bureaucrats' names are highlighted in cyan.
We hope you enjoy editing here, and look forward to seeing you around!
Callofduty4 03:03, July 11, 2011 (UTC)
Hello Reson! Regarding your recent image, "File:MERB26Small.png", I'd like to bring to your attention that it was not named all that well. For future reference, for your personal images, can you name them first with "Personal ResonX", that way we know it is yours? If you have any other questions regarding images, you can contact myself or another Custodian on our respective talk pages. Thanks, and welcome to the wiki!
Legos-Rule-15 Talk 02:17, November 14, 2014 (UTC)
Epic Rap Battle
Edit
Unfortuneatly, I do not have much authority to decides what goes on the wiki's YouTube channel. You might want to talk to COD4 about that. I think helps run the channel. Conqueror of all Zombies (talk) 07:17, November 28, 2014 (UTC)
RE: Rap Battle Video
Edit
Awesome! I just watched it, and I think you did an amazing job on it! Everything went real smooth, and you chose good clips and images for the video. Once again, I loved the CoD references. Great work!
Legos-Rule-15 Talk 19:04, November 28, 2014 (UTC)
Unfortunately, I don't have one, so I am unable to. Sorry.

Legos-Rule-15

Talk

00:48, November 29, 2014 (UTC)
RE: Rap Battle vid
Edit
Good job man! I loved the references, and the flow was nice. I liked the collaboration of all the rappers, and the editing was good as well. One thing that I think you could improve on is the mic quality, but overall, it was very enjoyable.
Community content is available under
CC-BY-SA
unless otherwise noted.