Welcome to the wiki!

Edit
---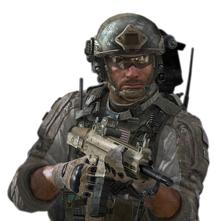 Hello Xolectic, and welcome to the Call of Duty Wiki! Thanks for your contributions. We hope you'll stick around to make even more!
Have you created your user page yet? It's your own personal page, and you can do anything you want with it! Your user page will also help us get to know you as an editor better.
Here are some links that you may find helpful:

Still have questions? Feel free to ask me or contact another administrator. Sysops' names are highlighted in green and bureaucrats' names are highlighted in cyan.
We hope you enjoy editing here, and look forward to seeing you around!
Conqueror of all Zombies (talk) 00:54, February 28, 2015 (UTC)
Image Naming
Edit
when naming images, please put the initials for the game it came from before the file extension (example: [File Name]_[Game Initials].[File Extension]). thank you. also, if you need further help i suggest contacting another admin, a bureaucrat or a custodian because i am currently mostly inactive for the next few weeks.
RisingSun2020
(RisingSun's Talk Page ☀ Blog Posts ☀ Contributions) 02:33, February 28, 2015 (UTC)
Thanks, I tried to to that after the image had already been uploaded. Would reuploading the image with transparency and a proper name be a good idea?Xolectic (talk) 02:42, February 28, 2015 (UTC
Yes, feel free to do so. The picture was already moved, but if you wanted to, you could make it transparent and put a speedy deletion template on :File:SMR Gold Camo BOII.jpg| since you won't be able to replace it (only .pngs support transparency). If you need any help, just reply here. I'll be happy to help you. c: exacri 03:39, February 28, 2015 (UTC)
Regarding your recent message
Edit
You were more or less being warned the whole time your argument didn't make sense and you were clearly only in chat to bitch. Your entire argument was flawed, and you were generally speaking out of ignorance (setting variables have nothing to do with the game engine). Trying to claim admin abuse to any user will not work. If you want to continue trying to run your mouth as much as you can, then I will get another user involved.
That message is not about the discussion we had. I welcome another admin to investigate this matter. I may not be available to answer any questions for a couple hours. Thank you.Xolectic (talk) 18:00, March 2, 2015 (UTC)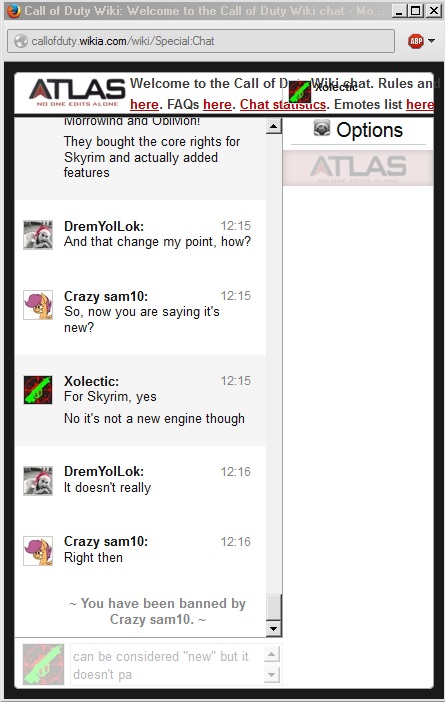 I am only including this image as documentation of what happened. Whether it is really "admin abuse" can be decided by another administrator.Xolectic (talk) 18:08, March 2, 2015 (UTC)
I don't see how a few lines of dialogue between the two of you is proof of "admin abuse", a longer log would truly be necessary. Conqueror of all Zombies (talk) 18:13, March 2, 2015 (UTC)
Is there a site that logs the chats? There is a site that provides statistics for this chat room. I will likely be accused of trolling but I was not trying to mislead or annoy anyone. Even if I was completely talking out of my ass, being unknowingly incorrect is not the same as being a troll.Xolectic (talk) 18:18, March 2, 2015 (UTC)
You were told multiple times how your facts were wrong. You ignored them multiple times. It's understandable after the first time you were disproved. Not after the 5th.
I still don't understand your reason for banning me. So what if I was wrong, was I breaking any rules?Xolectic (talk) 18:23, March 2, 2015 (UTC)
After being told several times you were wrong, you continued the complaining. The shear amount of complaining you did can easily be seen as trolling, since any other user would have dropped the issue.
At this point, there's no reason for me to say any more unless another admin sees the issue here. Go ahead and do what you feel is warranted.Xolectic (talk) 18:30, March 2, 2015 (UTC)
While I still feel that the ban was wrong and unnecessary (especially with no warning whatsoever), since you shortened it to one day, I won't bother any of you any further.  I do appreciate your honesty in posting the log unedited, so he could make up his mind having read the full chat.  I never intended to anger you or the other guy, but as someone who has poured huge amounts of hours into the entire Elder Scrolls series,  I felt like I understood the issue fairly well.  Also I saw your concern about my comments on the SMR's talk page.  Again, this was not an attempt to troll, but it was my two cents on a topic dear to me, since the SMR is my go-to primary on Black Ops II, and I am a serious gun nut with an obsession with technical aspects of firearms.  My opinions appeared contradictory because I read a few comments and tried to add further info (since I was convinced that the gun was a Saritch and didn't read the whole page itself).  After claiming it was the Saritch, I scrolled up, read another comment, and googled an image of a M14 with a Bullpup kit.  Some of the configurations look remarkably similar to the SMR, in fact even more similar to the in-game model.  The M14 has 20 round mags that look identical to the SMR's.  The bullpup M14 on Battlefield 4 looks fairly similar, but some custom conversions look even more like the Black Ops version.
So, with all that being said, I'm sorry about what happened, but I still don't appreciate the ban itself or the nastiness that came after that.  Hopefully when I come back to chat, we can discuss topics without butting heads.Xolectic (talk) 20:54, March 2, 2015 (UTC)
Since this is more or less aired out to dry at this point, I am posting the full chat log on this page just for reference just in case I am accused of anything else: http://pastebin.com/eVVpwfz2
Thanks.Xolectic (talk) 06:05, March 3, 2015 (UTC)
unacceptable behavior
, you have been blocked for 3 days for
abusing multiple accounts
. You are welcome to come back and edit sensibly after the block is up, however it is very strongly advised that you read and review
our policies
thoroughly before you start to edit again. If you believe your block is unfair you can leave a message on this page and an administrator will consider it.
Any more unacceptable behavior and another block will be issued. Thank you.
The chat ban was set to expire earlier today but it hasn't.  Isn't that separate from an edit block?Xolectic (talk) 20:26, March 3, 2015 (UTC)
So the ban that I earned for disagreeing with him about Skyrim got superseded by the ban for sockpuppeting? I never actually used that account on the wiki itself, so I think it should only be a chat ban since my sockpuppet never did any edits. I'm sure there is a standard policy and such for blocks, but please consider this.Xolectic (talk) 03:34, March 4, 2015 (UTC)
Breaking a policy will result in an edit block even if you didn't edit with said sockpuppet account. Sorry. Conqueror of all Zombies (talk) 06:03, March 4, 2015 (UTC)

I appreciate you being courteous.  I was not pleased with the initial chat ban (which I still can't see how he justified it), but I suppose a 3 day block for sockpuppeting isn't unfair.  Thanks.  Xolectic (talk) 07:12, March 4, 2015 (UTC)

I recall the one time i was blocked for sockpuppeting, but that was because i wasn't aware of the wikis policies at the time, i swiftly deleted that account after the block was lifted. If you would intend to delete said account, it may be possible for this block to be lifted, though don't take my word for it, just talk it over with an admin and they could take it from there. Just an idea before this "puppet" account gets you another block later down the line.  

Lazarou

Dave

  08:49, March 4, 2015 (UTC)
I don't understand this exactly, the ban will be gone tomorrow, and the sockpuppet account should be blocked for good anyway. If I wanted to do the same thing again, I would have to make another account since the second one is gone. Thanks for trying to help me avoid doing that again though.Xolectic (talk) 04:26, March 5, 2015 (UTC)
"I never actually used that account on the wiki itself" - Yes you did. You used it to join the chat and circumvent your chat ban. Using an alternate account to get around a block or ban, regardless of if you think it's fair is still a violation of COD:SOCK. And you were challenged with this in chat, which I have Checkuser rights which means I know it's you, you tried to deny it. Given your history I feel you simply wish to be here to spark up tension and argue for the sake of arguing.
Of course I was going to deny it. Who gets caught doing naughty stuff and immediately confesses? Given your animosity towards me, I assumed the ban would be permanent at first. You should have known that I meant no edits were made under the account. I used it for one reason alone. Even though I violated the rules that time, there was still no way the original chat ban was fair. It's really not an issue now, but if something like that happens again, I will find a more appropriate way to handle it. I apologize for some of my behavior, but please understand that my motivation was the anger from a ban I perceive as unfair. The sockpuppeting was entirely a bad idea, and I definitely regret it. Keep in mind that a troll would have never admitted wrongdoing, and would have continued to make fake accounts under a new IP. I hope to contribute to the wiki tomorrow. Let's just put all this nasty stuff behind us. Xolectic (talk) 04:26, March 5, 2015 (UTC)
"Keep in mind that a troll would have never admitted wrongdoing", like you tried to claim you weren't a sock when I gave you the option to just leave chat without having to kick you? Trying to lie to a Checkuser about something like that is the same as trying to say you're not a theif while holding what you stole in your hand. I even gave you 2 pieces of evidence that outright proved you were socking and yu still tried to deny it. I'm sorry, but you really haven't made a very good first impression here and I find it very hard to put much faith in what you're saying.
My behavior after I got caught is mostly irrelevant. The "opportunity" that you gave me to leave meant nothing and I doubt it would change anything. I also felt even more angry at myself too, since I knew that I was only helping you convince others that I was nothing more than a troll and a menace. Anyways, the block should be gone tomorrow, so I have nothing more to say tonight. Xolectic (talk) 04:50, March 5, 2015 (UTC)
I remember when I was blocked, just because of me not licensing my images... but that was before I learnt how to actually liscence them... but once you see your errors... just accept it. There's no use arguing about something you started... but use the block as a lesson... a lesson to be wiser. Don't use it to be MORE mad here... because that isn't going to get you far... 

RoachTheIntelCollector

Talk

 06:48, March 5, 2015 (UTC)
Edit boosting
Edit
You have been editing your Userpage a lot, and so far have done nothing more than constantly swap the same links back and forth. Please find one you like and stick with it. If you keep changing it every other day, it will be seen as edit boosting.
I'm sorry about that.  I kept changing the userbox over and over because I didn't know which weapon I liked better.  It seems really weird of me to be worried about such a small thing.  I'll just change it to the SMR link and leave it.  If I still feel bothered by it, I will just delete it. Xolectic (talk) 18:50, March 10, 2015 (UTC)
I actually ended up setting it with another image for the userbox and signature  I recognize that you don't want me making what appear to be pointless and repetitive edits, but I just wanted it to look nice and reflect my in-game preferences.  Sorry for the inconvenience.  EDIT:  I deleted the userboxes since they were just a source of pointless edits; if I felt compelled to keep changing them, it seems clear that I really don't have that many "favorite" weapons after all. 
Signature test
Edit
Is this okay, if the image is too big or anything is wrong I will change it.  I don't really know HTML, CSS, or any kind of markup so I just kind of ad-libbed it.  It seems there is something wrong with the date, does anyone know why it is doing this?
If you're referring to the time, that's because it's in UTC. In our signature policy, it says that the maximum height can't be more than 30 pixels, and your signature is exactly that, so it should be fine. exacri 02:26, March 12, 2015 (UTC)
That actually had to do with a problem caused by formatting it incorrectly (the date was showing up in a gray box).  The image was actually too big until Sam changed it for me.  For some reason when I tried to set it as 30px it appeared much smaller so I put in 115px, which made it appear to be 40 pixels tall instead.  It should be fine now.

Xolectic

talk

02:33, March 12, 2015 (UTC)
Because a user showed me images of you coming in to chat to slag myself off. Given your history I gave you a permanent ban.
I think permanent is excessive for a second offense, especially considering what happened for the first "offense" (talking about a game engine).  Both bans were initially permanent and no reason was ever given without me asking for one.  I haven't been here for months, of course I'm not here to talk crap about anyone.  Where did the images come from, anyway?  The picture I had saved on my userpage?
Your first ban was not permanent, however you did extend it due to violating COD:SOCK and trying to deny it. Your first ban was earned because you kept the argument going far longer than was needed, even after multiple users had disproved you. The images were sent to me over Skype in regards to your 4Chan post. With the behaviour you've displayed in the past as well as the images I've seen only lead me to believe you are a trouble maker in chat and as such revoked your ability to do so indefinitely.
If I've only logged into chat a few times in the past months and came back immediately after the release of BOIII, obviously I wanted to talk about the game and not some stale drama.  I apologize for the 4chan post, and I was being really rude on another website (it WAS related to that thread), but that was still months ago  I did not start the thread and later deleted that image from the 4chan thread.  The sockpuppeting was a clear violation of the rules, yes, but literally nobody in the ban log has ever went to permanent this quickly.  I would have been gone long enough to wait out any reasonable ban anyway, which must be why you felt it necessary to make an example of me.

Xolectic

talk

10:35, November 7, 2015 (UTC)

I gave your ban straight after I was given the pictures, as such at the time you earned your ban your actions were not "months ago". You earned your first ban and block for trouble making, and the first news about you that I heard was after your ban and that was regarding the 4Chan thread which you posted in to chat. Furthermore, you are not the first user for this to happen to, other well-known trouble maker accounts have been banned from chat on their second and sometimes first go, so please don't try to twist this in to "making an example" debate, because it isn't. I simply feel that with your past behaviour you have showcased yourself to merely be a trouble maker in chat. If you wish to disprove then I would recommend you use the fact that you now own BO3 to help with the Wiki to show you're here for more than just the chat. If not then the only evidence I have is your past chat behaviour which simply isn't good enough to warrant any kind of ban change.
even by 4chan standards thats a shitpost bud KλT 11:27, November 7, 2015 (UTC)
Community content is available under
CC-BY-SA
unless otherwise noted.