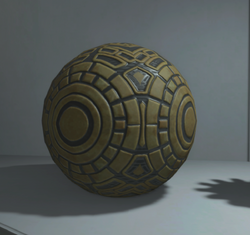 "An egg. Of the devil!"
— Takeo, during the Moon's easter egg
The Vril Sphere, also known as the Black Egg, is an artifact that is found in the Zombie map Moon. It is an integral part of the Richtofen's Grand Scheme Easter Egg. It also appears in Call of Duty: Black Ops 4 in the map Remnant.
During the Moon's Easter Egg, where the players need to escort the egg, Richtofen says he wanted to build an "egg moving robot", but Maxis' rules prevented him from doing so. That quote would be heard in Nuketown Zombies.
The egg appears in the map if Excavator Pi hits tunnel Six. The players would then have to escort the egg to the MPD and link the two. After Richtofen has entered the M.P.D., the players have to use the Q.E.D. to move the egg near the "Samantha says" computer, and then use the Gersh device to suck in the egg.
Gallery